DNA Center - Discovery - What It Does To Your Devices
Table of Contents
In this post I'm using DNAC version 1.3.3.3 for demonstrate what happens when you discover a switch using DNAC.
Previously I've written similar posts:
DNA Center - PnP - What It Does To Your Devices DNA Center - Provision - What It Does To Your Devices
Test Case
One simple test case is all we need to see what DNAC does:
Manually configure a Cat9300 switch
Add the switch to DNAC using a discovery job
Topology
The below topology is used for this post:

DCGW is the L3 switch routing between the two connected networks. Since we're looking at DNAC Discovery we need to ensure that DNAC can in fact discover and add the switch to its inventory. The prerequisites are:
Discovery
To discover a device, DNAC must have:
SSH access
SNMP access

SNMPv2c read at a minimum
For reference, see the official documentation for Discovery Prerequisites
ip dhcp excluded-address 100.127.127.253
!
ip dhcp pool dhcp_discovery
 network 100.127.127.252 255.255.255.252
 default-router 100.127.127.253

The initial configuration of the Cat9300 is this:
hostname Cat9300
!
crypto key generate rsa modulus 2048 label SSH
!
interface GigabitEthernet1/0/47
 no switchport
 ip address dhcp
!
username dnac snmp-server community dnac ro
username dnac privilege 15 algorithm-type sha256 secret <mysecret>
!
line vty 0 15
 login local
!
event manager applet catchall
 event cli pattern ".*" sync no skip no
 action 1 syslog msg "$_cli_msg"

This should make us able to discover and add the device to the inventory. A new discovery job is created: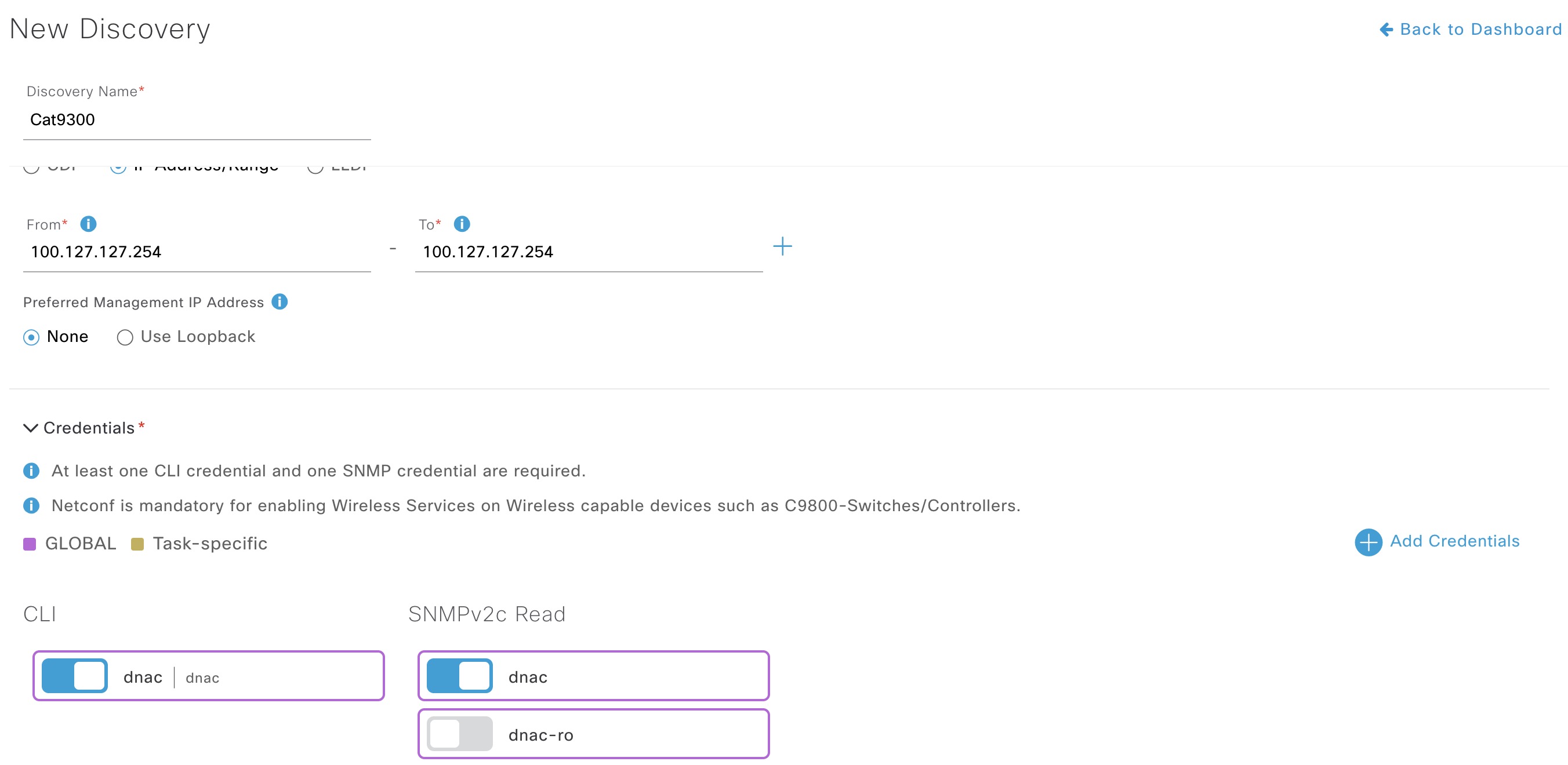 In less than one minutes the switch is discovered: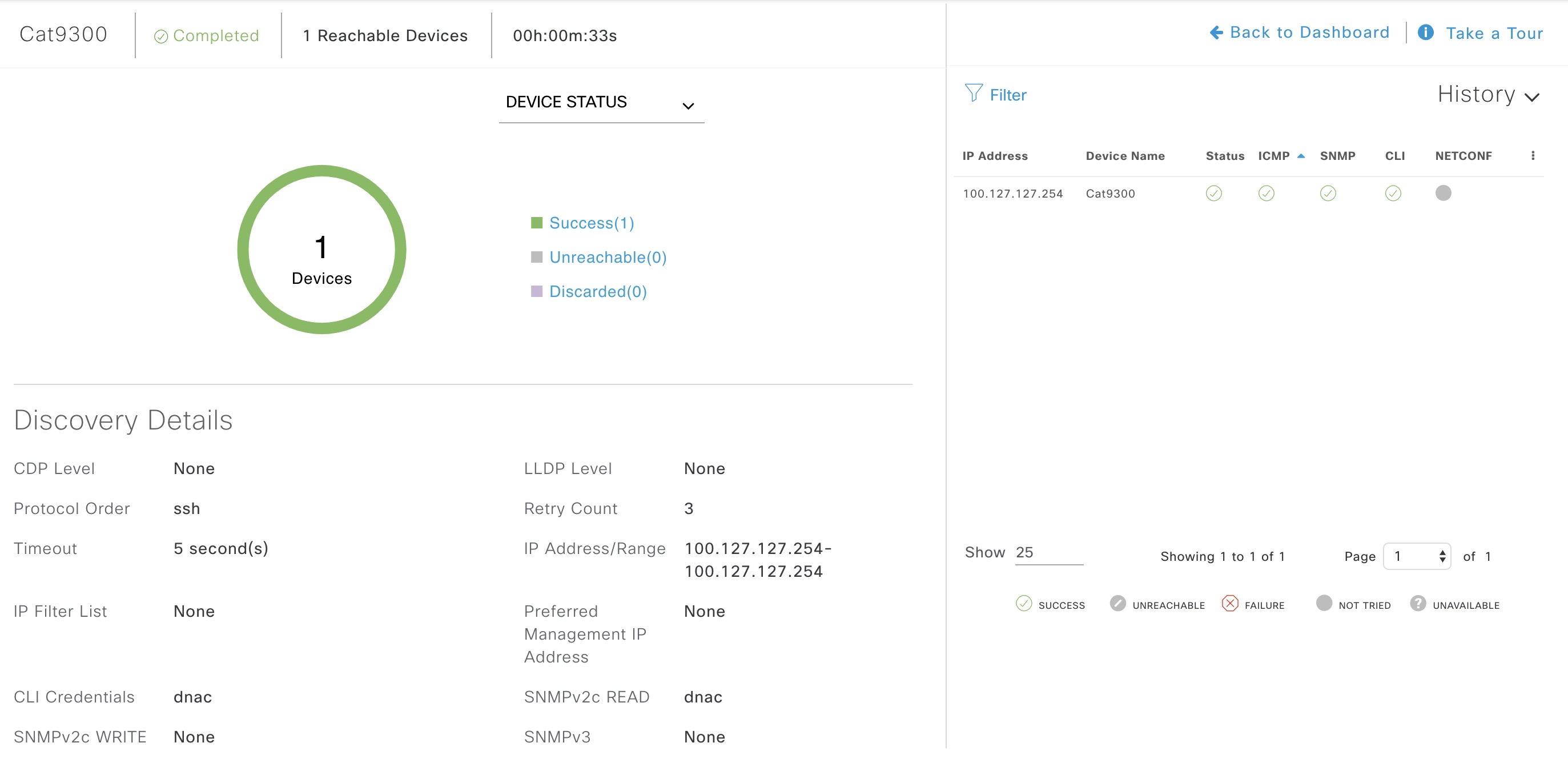 Let's have a look at what happens on the swithc:
Cat9300#
*Mar 27 13:30:42.227: %SEC_LOGIN-5-LOGIN_SUCCESS: Login Success [user: dnac] [Source: 10.0.0.101] [localport: 22] at 13:30:42 UTC Fri Mar 27 2020
*Mar 27 13:30:42.244: %HA_EM-6-LOG: catchall: terminal length 0
*Mar 27 13:30:42.254: %HA_EM-6-LOG: catchall: terminal width 0
*Mar 27 13:30:42.269: %HA_EM-6-LOG: catchall: show privilege 
*Mar 27 13:30:42.271: %SYS-6-LOGOUT: User dnac has exited tty session 1(10.0.0.101)
*Mar 27 13:30:51.557: %SEC_LOGIN-5-LOGIN_SUCCESS: Login Success [user: dnac] [Source: 10.0.0.101] [localport: 22] at 13:30:51 UTC Fri Mar 27 2020
*Mar 27 13:30:51.570: %HA_EM-6-LOG: catchall: enable 
*Mar 27 13:30:51.588: %HA_EM-6-LOG: catchall: terminal length 0
*Mar 27 13:30:51.606: %HA_EM-6-LOG: catchall: terminal width 0
*Mar 27 13:30:51.618: %HA_EM-6-LOG: catchall: configure terminal 
*Mar 27 13:30:51.643: %HA_EM-6-LOG: catchall: snmp-server community dnac ro 
*Mar 27 13:30:51.647: %SYS-5-CONFIG_I: Configured from console by dnac on vty0 (10.0.0.101)
*Mar 27 13:30:51.649: %HA_EM-6-LOG: catchall: exit 
*Mar 27 13:30:51.657: %HA_EM-6-LOG: catchall: write memory 
*Mar 27 13:30:53.107: %SEC_LOGIN-5-LOGIN_SUCCESS: Login Success [user: dnac] [Source: 10.0.0.101] [localport: 22] at 13:30:53 UTC Fri Mar 27 2020
*Mar 27 13:30:53.117: %HA_EM-6-LOG: catchall: enable 
*Mar 27 13:30:53.322: %SEC_LOGIN-5-LOGIN_SUCCESS: Login Success [user: dnac] [Source: 10.0.0.101] [localport: 22] at 13:30:53 UTC Fri Mar 27 2020
*Mar 27 13:30:53.333: %HA_EM-6-LOG: catchall: enable 
*Mar 27 13:30:53.340: %HA_EM-6-LOG: catchall: terminal length 0
*Mar 27 13:30:53.360: %HA_EM-6-LOG: catchall: terminal width 0
*Mar 27 13:30:53.416: %HA_EM-6-LOG: catchall: show platform software process list switch active R0 name wncd_0
*Mar 27 13:30:54.546: %SEC_LOGIN-5-LOGIN_SUCCESS: Login Success [user: dnac] [Source: 10.0.0.101] [localport: 22] at 13:30:54 UTC Fri Mar 27 2020
*Mar 27 13:30:54.560: %HA_EM-6-LOG: catchall: enable 
*Mar 27 13:30:54.579: %HA_EM-6-LOG: catchall: terminal length 0
*Mar 27 13:30:54.597: %HA_EM-6-LOG: catchall: terminal width 0
*Mar 27 13:30:54.619: %HA_EM-6-LOG: catchall: show running-config 
*Mar 27 13:30:54.861: %HA_EM-6-LOG: catchall: show auto qos 
*Mar 27 13:30:54.942: %HA_EM-6-LOG: catchall: show ip nbar protocol-pack loaded 
*Mar 27 13:30:54.976: %HA_EM-6-LOG: catchall: show ip nbar version 
*Mar 27 13:30:55.003: %HA_EM-6-LOG: catchall: show file systems 
*Mar 27 13:30:55.050: %HA_EM-6-LOG: catchall: show ip nbar protocol-id 
*Mar 27 13:30:55.270: %HA_EM-6-LOG: catchall: show ip nbar attribute sub-category 
*Mar 27 13:30:55.313: %HA_EM-6-LOG: catchall: show ip nbar attribute category 
*Mar 27 13:30:55.351: %HA_EM-6-LOG: catchall: show ip nbar attribute 
*Mar 27 13:30:55.537: %HA_EM-6-LOG: catchall: show ip access-lists 
*Mar 27 13:30:55.574: %HA_EM-6-LOG: catchall: show running-config 
*Mar 27 13:30:55.772: %HA_EM-6-LOG: catchall: show ipv6 access-list 
*Mar 27 13:30:55.848: %HA_EM-6-LOG: catchall: show hosts 
*Mar 27 13:30:55.899: %HA_EM-6-LOG: catchall: show running-config 
*Mar 27 13:30:56.193: %HA_EM-6-LOG: catchall: show ip igmp snooping 
*Mar 27 13:30:56.252: %HA_EM-6-LOG: catchall: show vrf detail 
*Mar 27 13:30:56.275: %HA_EM-6-LOG: catchall: show ip route summary 
*Mar 27 13:30:56.301: %HA_EM-6-LOG: catchall: show ip route 
*Mar 27 13:30:56.332: %HA_EM-6-LOG: catchall: show flow monitor 
*Mar 27 13:30:56.367: %HA_EM-6-LOG: catchall: show interfaces 
*Mar 27 13:30:56.504: %HA_EM-6-LOG: catchall: show version 
*Mar 27 13:30:56.585: %HA_EM-6-LOG: catchall: show ip ospf 
*Mar 27 13:30:56.604: %HA_EM-6-LOG: catchall: show ospfv3 
*Mar 27 13:30:56.636: %HA_EM-6-LOG: catchall: show ip ospf interface 
*Mar 27 13:30:56.669: %HA_EM-6-LOG: catchall: show redundancy 
*Mar 27 13:30:56.694: %HA_EM-6-LOG: catchall: show standby 
*Mar 27 13:30:56.720: %HA_EM-6-LOG: catchall: show cef state 
*Mar 27 13:30:56.757: %HA_EM-6-LOG: catchall: show flow monitor 
*Mar 27 13:30:56.786: %HA_EM-6-LOG: catchall: show logging 
*Mar 27 13:30:56.814: %HA_EM-6-LOG: catchall: show snmp 
*Mar 27 13:30:56.840: %HA_EM-6-LOG: catchall: show snmp host 
*Mar 27 13:30:56.883: %HA_EM-6-LOG: catchall: show cef interface brief 
*Mar 27 13:30:56.917: %HA_EM-6-LOG: catchall: show ip vrf brief 
*Mar 27 13:30:56.959: %HA_EM-6-LOG: catchall: show ip route vrf Mgmt-vrf summary 
*Mar 27 13:30:57.018: %HA_EM-6-LOG: catchall: show clock 
*Mar 27 13:30:57.067: %HA_EM-6-LOG: catchall: disable 
*Mar 27 13:30:57.072: %SYS-6-LOGOUT: User dnac has exited tty session 4(10.0.0.101)
*Mar 27 13:30:57.275: %SEC_LOGIN-5-LOGIN_SUCCESS: Login Success [user: dnac] [Source: 10.0.0.101] [localport: 22] at 13:30:57 UTC Fri Mar 27 2020
*Mar 27 13:30:57.285: %HA_EM-6-LOG: catchall: enable 
*Mar 27 13:30:57.295: %HA_EM-6-LOG: catchall: terminal length 0
*Mar 27 13:30:57.316: %HA_EM-6-LOG: catchall: terminal width 0
*Mar 27 13:30:57.333: %HA_EM-6-LOG: catchall: show version 
*Mar 27 13:30:57.386: %HA_EM-6-LOG: catchall: show device-tracking database address all 
*Mar 27 13:30:57.415: %HA_EM-6-LOG: catchall: show arp 
*Mar 27 13:30:57.446: %HA_EM-6-LOG: catchall: show mac address-table 
*Mar 27 13:30:57.518: %HA_EM-6-LOG: catchall: show interfaces switchport 
*Mar 27 13:30:57.769: %HA_EM-6-LOG: catchall: show lldp neighbors detail 
*Mar 27 13:30:57.847: %HA_EM-6-LOG: catchall: show cdp neighbors detail 
*Mar 27 13:30:57.903: %HA_EM-6-LOG: catchall: show processes platform 
*Mar 27 13:31:07.262: %HA_EM-6-LOG: catchall: show monitor session all 
*Mar 27 13:31:07.563: %HA_EM-6-LOG: catchall: show ip nbar protocol-pack active 
*Mar 27 13:31:07.597: %HA_EM-6-LOG: catchall: show romvar 
*Mar 27 13:31:07.640: %HA_EM-6-LOG: catchall: show redundancy states 
*Mar 27 13:31:07.696: %HA_EM-6-LOG: catchall: show crypto pki certificates 
*Mar 27 13:31:07.756: %HA_EM-6-LOG: catchall: show ip nbar control-plane 
*Mar 27 13:31:07.777: %HA_EM-6-LOG: catchall: show flow interface 
*Mar 27 13:31:07.820: %HA_EM-6-LOG: catchall: show processes cpu 
*Mar 27 13:31:07.847: %HA_EM-6-LOG: catchall: show license usage 
*Mar 27 13:31:07.897: %HA_EM-6-LOG: catchall: show platform software et-analytics global 
*Mar 27 13:31:07.934: %HA_EM-6-LOG: catchall: show flow record 
*Mar 27 13:31:07.961: %HA_EM-6-LOG: catchall: show flow exporter 
*Mar 27 13:31:08.040: %HA_EM-6-LOG: catchall: show running-config all 
*Mar 27 13:31:08.449: %HA_EM-6-LOG: catchall: show license all 
*Mar 27 13:31:08.487: %HA_EM-6-LOG: catchall: show license tech support 
*Mar 27 13:31:08.517: %HA_EM-6-LOG: catchall: show license summary 
*Mar 27 13:31:08.548: %HA_EM-6-LOG: catchall: show ap summary 
*Mar 27 13:31:08.579: %HA_EM-6-LOG: catchall: show wireless summary 
*Mar 27 13:31:08.591: %HA_EM-6-LOG: catchall: disable 
*Mar 27 13:31:08.601: %SYS-6-LOGOUT: User dnac has exited tty session 4(10.0.0.101)
*Mar 27 13:31:08.805: %SEC_LOGIN-5-LOGIN_SUCCESS: Login Success [user: dnac] [Source: 10.0.0.101] [localport: 22] at 13:31:08 UTC Fri Mar 27 2020
*Mar 27 13:31:08.817: %HA_EM-6-LOG: catchall: enable 
*Mar 27 13:31:08.824: %HA_EM-6-LOG: catchall: terminal length 0
*Mar 27 13:31:08.841: %HA_EM-6-LOG: catchall: terminal width 0
*Mar 27 13:31:08.863: %HA_EM-6-LOG: catchall: show wireless summary 
*Mar 27 13:31:08.875: %HA_EM-6-LOG: catchall: disable 
*Mar 27 13:31:09.132: %SEC_LOGIN-5-LOGIN_SUCCESS: Login Success [user: dnac] [Source: 10.0.0.101] [localport: 22] at 13:31:09 UTC Fri Mar 27 2020
*Mar 27 13:31:09.144: %HA_EM-6-LOG: catchall: enable 
*Mar 27 13:31:09.160: %HA_EM-6-LOG: catchall: terminal length 0
*Mar 27 13:31:09.178: %HA_EM-6-LOG: catchall: terminal width 0
*Mar 27 13:31:09.268: %HA_EM-6-LOG: catchall: show wireless summary 
*Mar 27 13:31:09.274: %HA_EM-6-LOG: catchall: disable 
*Mar 27 13:31:09.276: %HA_EM-6-LOG: catchall: logout 
*Mar 27 13:31:09.508: %SEC_LOGIN-5-LOGIN_SUCCESS: Login Success [user: dnac] [Source: 10.0.0.101] [localport: 22] at 13:31:09 UTC Fri Mar 27 2020
*Mar 27 13:31:09.520: %HA_EM-6-LOG: catchall: enable 
*Mar 27 13:31:09.527: %HA_EM-6-LOG: catchall: terminal length 0
*Mar 27 13:31:09.546: %HA_EM-6-LOG: catchall: terminal width 0
*Mar 27 13:31:09.565: %HA_EM-6-LOG: catchall: show lacp sys-id 
*Mar 27 13:31:09.599: %HA_EM-6-LOG: catchall: show etherchannel load-balance 
*Mar 27 13:31:09.651: %HA_EM-6-LOG: catchall: show etherchannel detail 
*Mar 27 13:31:09.677: %HA_EM-6-LOG: catchall: show running-config 
*Mar 27 13:31:09.882: %HA_EM-6-LOG: catchall: terminal length 0
*Mar 27 13:31:09.916: %HA_EM-6-LOG: catchall: show interfaces 
*Mar 27 13:31:10.059: %HA_EM-6-LOG: catchall: show iox-service detail 
*Mar 27 13:31:10.061: %HA_EM-6-LOG: catchall: show platform software iox-service 
*Mar 27 13:31:10.181: %HA_EM-6-LOG: catchall: show platform software process list switch active R0 name caf
*Mar 27 13:31:10.227: %HA_EM-6-LOG: catchall: show platform software process list switch active R0 name libvirtd
*Mar 27 13:31:10.272: %HA_EM-6-LOG: catchall: show platform software process list switch active R0 name dockerd
*Mar 27 13:31:10.348: %HA_EM-6-LOG: catchall: show ip interface brief 
*Mar 27 13:31:10.394: %HA_EM-6-LOG: catchall: show version 
*Mar 27 13:31:10.442: %HA_EM-6-LOG: catchall: show running-config 
*Mar 27 13:31:10.651: %HA_EM-6-LOG: catchall: show ip http server session-module 
*Mar 27 13:31:10.761: %HA_EM-6-LOG: catchall: show module 
*Mar 27 13:31:11.074: %HA_EM-6-LOG: catchall: show ip interface 
*Mar 27 13:31:11.145: %HA_EM-6-LOG: catchall: show etherchannel summary 
*Mar 27 13:31:11.221: %HA_EM-6-LOG: catchall: show access-lists 
*Mar 27 13:31:11.475: %HA_EM-6-LOG: catchall: show version 
*Mar 27 13:31:11.527: %HA_EM-6-LOG: catchall: show spanning-tree 
*Mar 27 13:31:11.561: %HA_EM-6-LOG: catchall: show spanning-tree summary 
*Mar 27 13:31:11.634: %HA_EM-6-LOG: catchall: show vtp status 
*Mar 27 13:31:11.724: %HA_EM-6-LOG: catchall: show vlan 
*Mar 27 13:31:11.765: %HA_EM-6-LOG: catchall: show vlan mtu 
*Mar 27 13:31:11.898: %HA_EM-6-LOG: catchall: show template 
*Mar 27 13:31:11.963: %HA_EM-6-LOG: catchall: show template interface source built-in AP_INTERFACE_TEMPLATE
*Mar 27 13:31:12.021: %HA_EM-6-LOG: catchall: show template interface binding AP_INTERFACE_TEMPLATE
*Mar 27 13:31:12.083: %HA_EM-6-LOG: catchall: show template interface source built-in DMP_INTERFACE_TEMPLATE
*Mar 27 13:31:12.134: %HA_EM-6-LOG: catchall: show template interface binding DMP_INTERFACE_TEMPLATE
*Mar 27 13:31:12.198: %HA_EM-6-LOG: catchall: show template interface source built-in IP_CAMERA_INTERFACE_TEMPLATE
*Mar 27 13:31:12.252: %HA_EM-6-LOG: catchall: show template interface binding IP_CAMERA_INTERFACE_TEMPLATE
*Mar 27 13:31:12.291: %HA_EM-6-LOG: catchall: show template interface source built-in IP_PHONE_INTERFACE_TEMPLATE
*Mar 27 13:31:12.351: %HA_EM-6-LOG: catchall: show template interface binding IP_PHONE_INTERFACE_TEMPLATE
*Mar 27 13:31:12.405: %HA_EM-6-LOG: catchall: show template interface source built-in LAP_INTERFACE_TEMPLATE
*Mar 27 13:31:12.456: %HA_EM-6-LOG: catchall: show template interface binding LAP_INTERFACE_TEMPLATE
*Mar 27 13:31:12.529: %HA_EM-6-LOG: catchall: show template interface source built-in MSP_CAMERA_INTERFACE_TEMPLATE
*Mar 27 13:31:12.590: %HA_EM-6-LOG: catchall: show template interface binding MSP_CAMERA_INTERFACE_TEMPLATE
*Mar 27 13:31:12.651: %HA_EM-6-LOG: catchall: show template interface source built-in MSP_VC_INTERFACE_TEMPLATE
*Mar 27 13:31:12.703: %HA_EM-6-LOG: catchall: show template interface binding MSP_VC_INTERFACE_TEMPLATE
*Mar 27 13:31:12.770: %HA_EM-6-LOG: catchall: show template interface source built-in PRINTER_INTERFACE_TEMPLATE
*Mar 27 13:31:12.824: %HA_EM-6-LOG: catchall: show template interface binding PRINTER_INTERFACE_TEMPLATE
*Mar 27 13:31:12.892: %HA_EM-6-LOG: catchall: show template interface source built-in ROUTER_INTERFACE_TEMPLATE
*Mar 27 13:31:12.948: %HA_EM-6-LOG: catchall: show template interface binding ROUTER_INTERFACE_TEMPLATE
*Mar 27 13:31:13.003: %HA_EM-6-LOG: catchall: show template interface source built-in SWITCH_INTERFACE_TEMPLATE
*Mar 27 13:31:13.052: %HA_EM-6-LOG: catchall: show template interface binding SWITCH_INTERFACE_TEMPLATE
*Mar 27 13:31:13.110: %HA_EM-6-LOG: catchall: show template interface source built-in TP_INTERFACE_TEMPLATE
*Mar 27 13:31:13.158: %HA_EM-6-LOG: catchall: show template interface binding TP_INTERFACE_TEMPLATE
*Mar 27 13:31:13.262: %HA_EM-6-LOG: catchall: show install summary 
*Mar 27 13:31:14.952: %HA_EM-6-LOG: catchall: show install summary 
*Mar 27 13:31:16.602: %HA_EM-6-LOG: catchall: show version 
*Mar 27 13:31:16.652: %HA_EM-6-LOG: catchall: show install rollback 
*Mar 27 13:31:17.365: %HA_EM-6-LOG: catchall: dir flash: 
*Mar 27 13:31:17.936: %HA_EM-6-LOG: catchall: show subsys 
*Mar 27 13:31:18.050: %HA_EM-6-LOG: catchall: show running-config 
*Mar 27 13:31:20.817: %SEC_LOGIN-5-LOGIN_SUCCESS: Login Success [user: dnac] [Source: 10.0.0.101] [localport: 22] at 13:31:20 UTC Fri Mar 27 2020
*Mar 27 13:31:20.824: %HA_EM-6-LOG: catchall: enable 
*Mar 27 13:31:20.828: %HA_EM-6-LOG: catchall: terminal length 0
*Mar 27 13:31:20.832: %HA_EM-6-LOG: catchall: terminal width 0
*Mar 27 13:31:20.836: %HA_EM-6-LOG: catchall: terminal width 0
*Mar 27 13:31:20.840: %HA_EM-6-LOG: catchall: configure terminal 
*Mar 27 13:31:20.854: %HA_EM-6-LOG: catchall: no crypto pki trustpoint DNAC-CA
*Mar 27 13:31:20.860: %HA_EM-6-LOG: catchall: crypto key zeroize rsa DNAC-CA
*Mar 27 13:31:20.862: %SYS-5-CONFIG_I: Configured from console by dnac on vty5 (10.0.0.101)
*Mar 27 13:31:20.863: %HA_EM-6-LOG: catchall: exit 
*Mar 27 13:31:21.067: %HA_EM-6-LOG: catchall: write memory 
*Mar 27 13:31:22.217: %HA_EM-6-LOG: catchall: terminal width 0
*Mar 27 13:31:22.228: %HA_EM-6-LOG: catchall: configure terminal 
*Mar 27 13:31:22.274: %HA_EM-6-LOG: catchall: ip http client source-interface GigabitEthernet1/0/47 
*Mar 27 13:31:22.289: %HA_EM-6-LOG: catchall: ip ssh source-interface GigabitEthernet1/0/47 
*Mar 27 13:31:22.309: %HA_EM-6-LOG: catchall: ip ssh version 2 
*Mar 27 13:31:22.327: %HA_EM-6-LOG: catchall: ip domain lookup 
*Mar 27 13:31:22.366: %HA_EM-6-LOG: catchall: crypto pki trustpoint DNAC-CA
*Mar 27 13:31:22.394: %HA_EM-6-LOG: catchall: source interface GigabitEthernet1/0/47 
*Mar 27 13:31:22.427: %HA_EM-6-LOG: catchall: enrollment mode ra 
*Mar 27 13:31:22.455: %HA_EM-6-LOG: catchall: enrollment terminal 
*Mar 27 13:31:22.478: %HA_EM-6-LOG: catchall: usage ssl-client 
*Mar 27 13:31:22.500: %HA_EM-6-LOG: catchall: revocation-check crl none 
*Mar 27 13:31:22.513: %HA_EM-6-LOG: catchall: exit 
*Mar 27 13:31:22.546: %HA_EM-6-LOG: catchall: crypto pki authenticate DNAC-CA
*Mar 27 13:31:23.472: %SYS-5-CONFIG_I: Configured from console by dnac on vty5 (10.0.0.101)
*Mar 27 13:31:23.473: %HA_EM-6-LOG: catchall: exit 
*Mar 27 13:31:23.658: %HA_EM-6-LOG: catchall: show license eventlog 0
*Mar 27 13:31:26.247: %HA_EM-6-LOG: catchall: disable 
*Mar 27 13:31:26.256: %SYS-6-LOGOUT: User dnac has exited tty session 1(10.0.0.101)
*Mar 27 13:31:27.835: %HA_EM-6-LOG: catchall: terminal width 0
*Mar 27 13:31:27.839: %HA_EM-6-LOG: catchall: configure terminal 
*Mar 27 13:31:27.846: %SYS-5-CONFIG_I: Configured from console by dnac on vty5 (10.0.0.101)
*Mar 27 13:31:27.848: %HA_EM-6-LOG: catchall: exit 
*Mar 27 13:31:27.851: %HA_EM-6-LOG: catchall: disable 
*Mar 27 13:31:27.854: %HA_EM-6-LOG: catchall: logout 
*Mar 27 13:31:28.033: %HA_EM-6-LOG: catchall: show platform software process list switch active R0 name wncd_0
*Mar 27 13:31:28.326: %HA_EM-6-LOG: catchall: show hosts 
*Mar 27 13:31:28.355: %HA_EM-6-LOG: catchall: show running-config 
*Mar 27 13:31:28.609: %SEC_LOGIN-5-LOGIN_SUCCESS: Login Success [user: dnac] [Source: 10.0.0.101] [localport: 22] at 13:31:28 UTC Fri Mar 27 2020
*Mar 27 13:31:28.613: %HA_EM-6-LOG: catchall: show clock 
*Mar 27 13:31:28.624: %HA_EM-6-LOG: catchall: enable 
*Mar 27 13:31:28.634: %HA_EM-6-LOG: catchall: terminal length 0
*Mar 27 13:31:28.654: %HA_EM-6-LOG: catchall: show crypto pki certificates 
*Mar 27 13:31:28.661: %HA_EM-6-LOG: catchall: terminal width 0
*Mar 27 13:31:28.672: %HA_EM-6-LOG: catchall: terminal width 0
*Mar 27 13:31:28.678: %HA_EM-6-LOG: catchall: configure terminal 
*Mar 27 13:31:28.684: %HA_EM-6-LOG: catchall: show version 
*Mar 27 13:31:28.708: %HA_EM-6-LOG: catchall: device-tracking tracking 
*Mar 27 13:31:28.741: %HA_EM-6-LOG: catchall: device-tracking policy IPDT_MAX_10
*Mar 27 13:31:28.763: %HA_EM-6-LOG: catchall: limit address-count 10
*Mar 27 13:31:28.773: %HA_EM-6-LOG: catchall: tracking enable 
*Mar 27 13:31:28.784: %HA_EM-6-LOG: catchall: interface GigabitEthernet1/0/15 
*Mar 27 13:31:28.821: %HA_EM-6-LOG: catchall: device-tracking attach-policy IPDT_MAX_10
*Mar 27 13:31:28.847: %HA_EM-6-LOG: catchall: interface GigabitEthernet1/0/28 
*Mar 27 13:31:28.881: %HA_EM-6-LOG: catchall: device-tracking attach-policy IPDT_MAX_10
*Mar 27 13:31:28.911: %HA_EM-6-LOG: catchall: interface GigabitEthernet1/0/1 
*Mar 27 13:31:28.945: %HA_EM-6-LOG: catchall: device-tracking attach-policy IPDT_MAX_10
*Mar 27 13:31:28.974: %HA_EM-6-LOG: catchall: interface GigabitEthernet1/0/46 
*Mar 27 13:31:29.000: %HA_EM-6-LOG: catchall: device-tracking attach-policy IPDT_MAX_10
*Mar 27 13:31:29.025: %HA_EM-6-LOG: catchall: interface GigabitEthernet1/0/26 
*Mar 27 13:31:29.059: %HA_EM-6-LOG: catchall: device-tracking attach-policy IPDT_MAX_10
*Mar 27 13:31:29.082: %HA_EM-6-LOG: catchall: interface GigabitEthernet1/0/36 
*Mar 27 13:31:29.115: %HA_EM-6-LOG: catchall: device-tracking attach-policy IPDT_MAX_10
*Mar 27 13:31:29.138: %HA_EM-6-LOG: catchall: interface GigabitEthernet1/0/13 
*Mar 27 13:31:29.173: %HA_EM-6-LOG: catchall: device-tracking attach-policy IPDT_MAX_10
*Mar 27 13:31:29.179: %HA_EM-6-LOG: catchall: interface GigabitEthernet1/0/7 
*Mar 27 13:31:29.202: %HA_EM-6-LOG: catchall: device-tracking attach-policy IPDT_MAX_10
*Mar 27 13:31:29.230: %HA_EM-6-LOG: catchall: interface GigabitEthernet1/0/18 
*Mar 27 13:31:29.236: %HA_EM-6-LOG: catchall: device-tracking attach-policy IPDT_MAX_10
*Mar 27 13:31:29.241: %HA_EM-6-LOG: catchall: interface GigabitEthernet1/0/10 
*Mar 27 13:31:29.248: %HA_EM-6-LOG: catchall: device-tracking attach-policy IPDT_MAX_10
*Mar 27 13:31:29.253: %HA_EM-6-LOG: catchall: interface GigabitEthernet1/0/22 
*Mar 27 13:31:29.260: %HA_EM-6-LOG: catchall: device-tracking attach-policy IPDT_MAX_10
*Mar 27 13:31:29.265: %HA_EM-6-LOG: catchall: interface GigabitEthernet1/0/40 
*Mar 27 13:31:29.272: %HA_EM-6-LOG: catchall: device-tracking attach-policy IPDT_MAX_10
*Mar 27 13:31:29.279: %HA_EM-6-LOG: catchall: interface TenGigabitEthernet1/1/7 
*Mar 27 13:31:29.285: %HA_EM-6-LOG: catchall: device-tracking attach-policy IPDT_MAX_10
*Mar 27 13:31:29.291: %HA_EM-6-LOG: catchall: interface TwentyFiveGigE1/1/1 
*Mar 27 13:31:29.297: %HA_EM-6-LOG: catchall: device-tracking attach-policy IPDT_MAX_10
*Mar 27 13:31:29.303: %HA_EM-6-LOG: catchall: interface TenGigabitEthernet1/1/2 
*Mar 27 13:31:29.310: %HA_EM-6-LOG: catchall: device-tracking attach-policy IPDT_MAX_10
*Mar 27 13:31:29.315: %HA_EM-6-LOG: catchall: interface GigabitEthernet1/1/1 
*Mar 27 13:31:29.321: %HA_EM-6-LOG: catchall: device-tracking attach-policy IPDT_MAX_10
*Mar 27 13:31:29.327: %HA_EM-6-LOG: catchall: interface TenGigabitEthernet1/1/5 
*Mar 27 13:31:29.333: %HA_EM-6-LOG: catchall: device-tracking attach-policy IPDT_MAX_10
*Mar 27 13:31:29.338: %HA_EM-6-LOG: catchall: interface GigabitEthernet1/0/41 
*Mar 27 13:31:29.344: %HA_EM-6-LOG: catchall: device-tracking attach-policy IPDT_MAX_10
*Mar 27 13:31:29.349: %HA_EM-6-LOG: catchall: interface GigabitEthernet1/0/8 
*Mar 27 13:31:29.356: %HA_EM-6-LOG: catchall: device-tracking attach-policy IPDT_MAX_10
*Mar 27 13:31:29.361: %HA_EM-6-LOG: catchall: interface GigabitEthernet1/0/29 
*Mar 27 13:31:29.368: %HA_EM-6-LOG: catchall: device-tracking attach-policy IPDT_MAX_10
*Mar 27 13:31:29.373: %HA_EM-6-LOG: catchall: interface GigabitEthernet1/0/12 
*Mar 27 13:31:29.380: %HA_EM-6-LOG: catchall: device-tracking attach-policy IPDT_MAX_10
*Mar 27 13:31:29.386: %HA_EM-6-LOG: catchall: interface FortyGigabitEthernet1/1/2 
*Mar 27 13:31:29.393: %HA_EM-6-LOG: catchall: device-tracking attach-policy IPDT_MAX_10
*Mar 27 13:31:29.398: %HA_EM-6-LOG: catchall: interface GigabitEthernet1/0/5 
*Mar 27 13:31:29.405: %HA_EM-6-LOG: catchall: device-tracking attach-policy IPDT_MAX_10
*Mar 27 13:31:29.410: %HA_EM-6-LOG: catchall: interface GigabitEthernet1/0/6 
*Mar 27 13:31:29.416: %HA_EM-6-LOG: catchall: device-tracking attach-policy IPDT_MAX_10
*Mar 27 13:31:29.422: %HA_EM-6-LOG: catchall: interface GigabitEthernet0/0 
*Mar 27 13:31:29.433: %HA_EM-6-LOG: catchall: interface TwentyFiveGigE1/1/2 
*Mar 27 13:31:29.439: %HA_EM-6-LOG: catchall: device-tracking attach-policy IPDT_MAX_10
*Mar 27 13:31:29.445: %HA_EM-6-LOG: catchall: interface GigabitEthernet1/0/11 
*Mar 27 13:31:29.452: %HA_EM-6-LOG: catchall: device-tracking attach-policy IPDT_MAX_10
*Mar 27 13:31:29.457: %HA_EM-6-LOG: catchall: interface GigabitEthernet1/0/33 
*Mar 27 13:31:29.463: %HA_EM-6-LOG: catchall: device-tracking attach-policy IPDT_MAX_10
*Mar 27 13:31:29.468: %HA_EM-6-LOG: catchall: interface GigabitEthernet1/0/24 
*Mar 27 13:31:29.475: %HA_EM-6-LOG: catchall: device-tracking attach-policy IPDT_MAX_10
*Mar 27 13:31:29.480: %HA_EM-6-LOG: catchall: interface GigabitEthernet1/0/42 
*Mar 27 13:31:29.486: %HA_EM-6-LOG: catchall: device-tracking attach-policy IPDT_MAX_10
*Mar 27 13:31:29.491: %HA_EM-6-LOG: catchall: interface GigabitEthernet1/0/39 
*Mar 27 13:31:29.498: %HA_EM-6-LOG: catchall: device-tracking attach-policy IPDT_MAX_10
*Mar 27 13:31:29.504: %HA_EM-6-LOG: catchall: interface GigabitEthernet1/1/4 
*Mar 27 13:31:29.510: %HA_EM-6-LOG: catchall: device-tracking attach-policy IPDT_MAX_10
*Mar 27 13:31:29.515: %HA_EM-6-LOG: catchall: interface GigabitEthernet1/0/25 
*Mar 27 13:31:29.522: %HA_EM-6-LOG: catchall: device-tracking attach-policy IPDT_MAX_10
*Mar 27 13:31:29.527: %HA_EM-6-LOG: catchall: interface GigabitEthernet1/0/35 
*Mar 27 13:31:29.534: %HA_EM-6-LOG: catchall: device-tracking attach-policy IPDT_MAX_10
*Mar 27 13:31:29.539: %HA_EM-6-LOG: catchall: interface GigabitEthernet1/0/20 
*Mar 27 13:31:29.545: %HA_EM-6-LOG: catchall: device-tracking attach-policy IPDT_MAX_10
*Mar 27 13:31:29.552: %HA_EM-6-LOG: catchall: interface TenGigabitEthernet1/1/1 
*Mar 27 13:31:29.558: %HA_EM-6-LOG: catchall: device-tracking attach-policy IPDT_MAX_10
*Mar 27 13:31:29.563: %HA_EM-6-LOG: catchall: interface TenGigabitEthernet1/1/3 
*Mar 27 13:31:29.570: %HA_EM-6-LOG: catchall: device-tracking attach-policy IPDT_MAX_10
*Mar 27 13:31:29.575: %HA_EM-6-LOG: catchall: interface GigabitEthernet1/0/16 
*Mar 27 13:31:29.591: %HA_EM-6-LOG: catchall: device-tracking attach-policy IPDT_MAX_10
*Mar 27 13:31:29.620: %HA_EM-6-LOG: catchall: interface GigabitEthernet1/0/31 
*Mar 27 13:31:29.653: %HA_EM-6-LOG: catchall: device-tracking attach-policy IPDT_MAX_10
*Mar 27 13:31:29.680: %HA_EM-6-LOG: catchall: interface GigabitEthernet1/0/17 
*Mar 27 13:31:29.718: %HA_EM-6-LOG: catchall: device-tracking attach-policy IPDT_MAX_10
*Mar 27 13:31:29.737: %HA_EM-6-LOG: catchall: interface GigabitEthernet1/0/3 
*Mar 27 13:31:29.774: %HA_EM-6-LOG: catchall: device-tracking attach-policy IPDT_MAX_10
*Mar 27 13:31:29.784: %HA_EM-6-LOG: catchall: interface FortyGigabitEthernet1/1/1 
*Mar 27 13:31:29.818: %HA_EM-6-LOG: catchall: device-tracking attach-policy IPDT_MAX_10
*Mar 27 13:31:29.839: %HA_EM-6-LOG: catchall: interface Bluetooth0/4 
*Mar 27 13:31:29.903: %HA_EM-6-LOG: catchall: interface AppGigabitEthernet1/0/1 
*Mar 27 13:31:29.939: %HA_EM-6-LOG: catchall: device-tracking attach-policy IPDT_MAX_10
*Mar 27 13:31:29.968: %HA_EM-6-LOG: catchall: interface GigabitEthernet1/0/43 
*Mar 27 13:31:30.001: %HA_EM-6-LOG: catchall: device-tracking attach-policy IPDT_MAX_10
*Mar 27 13:31:30.027: %HA_EM-6-LOG: catchall: interface GigabitEthernet1/0/2 
*Mar 27 13:31:30.062: %HA_EM-6-LOG: catchall: device-tracking attach-policy IPDT_MAX_10
*Mar 27 13:31:30.090: %HA_EM-6-LOG: catchall: interface GigabitEthernet1/0/48 
*Mar 27 13:31:30.122: %HA_EM-6-LOG: catchall: device-tracking attach-policy IPDT_MAX_10
*Mar 27 13:31:30.150: %HA_EM-6-LOG: catchall: interface TenGigabitEthernet1/1/4 
*Mar 27 13:31:30.186: %HA_EM-6-LOG: catchall: device-tracking attach-policy IPDT_MAX_10
*Mar 27 13:31:30.214: %HA_EM-6-LOG: catchall: interface GigabitEthernet1/0/14 
*Mar 27 13:31:30.245: %HA_EM-6-LOG: catchall: device-tracking attach-policy IPDT_MAX_10
*Mar 27 13:31:30.272: %HA_EM-6-LOG: catchall: interface GigabitEthernet1/1/3 
*Mar 27 13:31:30.284: %HA_EM-6-LOG: catchall: device-tracking attach-policy IPDT_MAX_10
*Mar 27 13:31:30.310: %HA_EM-6-LOG: catchall: interface GigabitEthernet1/0/4 
*Mar 27 13:31:30.347: %HA_EM-6-LOG: catchall: device-tracking attach-policy IPDT_MAX_10
*Mar 27 13:31:30.374: %HA_EM-6-LOG: catchall: interface TenGigabitEthernet1/1/8 
*Mar 27 13:31:30.409: %HA_EM-6-LOG: catchall: device-tracking attach-policy IPDT_MAX_10
*Mar 27 13:31:30.435: %HA_EM-6-LOG: catchall: interface GigabitEthernet1/0/27 
*Mar 27 13:31:30.462: %HA_EM-6-LOG: catchall: device-tracking attach-policy IPDT_MAX_10
*Mar 27 13:31:30.488: %HA_EM-6-LOG: catchall: interface GigabitEthernet1/0/19 
*Mar 27 13:31:30.517: %HA_EM-6-LOG: catchall: device-tracking attach-policy IPDT_MAX_10
*Mar 27 13:31:30.544: %HA_EM-6-LOG: catchall: interface GigabitEthernet1/0/30 
*Mar 27 13:31:30.580: %HA_EM-6-LOG: catchall: device-tracking attach-policy IPDT_MAX_10
*Mar 27 13:31:30.604: %HA_EM-6-LOG: catchall: interface GigabitEthernet1/1/2 
*Mar 27 13:31:30.634: %HA_EM-6-LOG: catchall: device-tracking attach-policy IPDT_MAX_10
*Mar 27 13:31:30.665: %HA_EM-6-LOG: catchall: interface GigabitEthernet1/0/44 
*Mar 27 13:31:30.695: %HA_EM-6-LOG: catchall: device-tracking attach-policy IPDT_MAX_10
*Mar 27 13:31:30.722: %HA_EM-6-LOG: catchall: interface GigabitEthernet1/0/34 
*Mar 27 13:31:30.756: %HA_EM-6-LOG: catchall: device-tracking attach-policy IPDT_MAX_10
*Mar 27 13:31:30.774: %HA_EM-6-LOG: catchall: interface GigabitEthernet1/0/38 
*Mar 27 13:31:30.804: %HA_EM-6-LOG: catchall: device-tracking attach-policy IPDT_MAX_10
*Mar 27 13:31:30.828: %HA_EM-6-LOG: catchall: interface GigabitEthernet1/0/9 
*Mar 27 13:31:30.865: %HA_EM-6-LOG: catchall: device-tracking attach-policy IPDT_MAX_10
*Mar 27 13:31:30.890: %HA_EM-6-LOG: catchall: interface GigabitEthernet1/0/37 
*Mar 27 13:31:30.926: %HA_EM-6-LOG: catchall: device-tracking attach-policy IPDT_MAX_10
*Mar 27 13:31:30.953: %HA_EM-6-LOG: catchall: interface TenGigabitEthernet1/1/6 
*Mar 27 13:31:30.984: %HA_EM-6-LOG: catchall: device-tracking attach-policy IPDT_MAX_10
*Mar 27 13:31:31.009: %HA_EM-6-LOG: catchall: interface GigabitEthernet1/0/23 
*Mar 27 13:31:31.038: %HA_EM-6-LOG: catchall: device-tracking attach-policy IPDT_MAX_10
*Mar 27 13:31:31.065: %HA_EM-6-LOG: catchall: interface GigabitEthernet1/0/21 
*Mar 27 13:31:31.103: %HA_EM-6-LOG: catchall: device-tracking attach-policy IPDT_MAX_10
*Mar 27 13:31:31.125: %HA_EM-6-LOG: catchall: interface GigabitEthernet1/0/32 
*Mar 27 13:31:31.147: %HA_EM-6-LOG: catchall: device-tracking attach-policy IPDT_MAX_10
*Mar 27 13:31:31.175: %HA_EM-6-LOG: catchall: interface GigabitEthernet1/0/45 
*Mar 27 13:31:31.211: %HA_EM-6-LOG: catchall: device-tracking attach-policy IPDT_MAX_10
*Mar 27 13:31:31.218: %HA_EM-6-LOG: catchall: exit 
*Mar 27 13:31:31.223: %SYS-5-CONFIG_I: Configured from console by dnac on vty0 (10.0.0.101)
*Mar 27 13:31:31.224: %HA_EM-6-LOG: catchall: exit 
*Mar 27 13:31:31.227: %HA_EM-6-LOG: catchall: exit 
*Mar 27 13:31:31.423: %SEC_LOGIN-5-LOGIN_SUCCESS: Login Success [user: dnac] [Source: 10.0.0.101] [localport: 22] at 13:31:31 UTC Fri Mar 27 2020
*Mar 27 13:31:31.435: %HA_EM-6-LOG: catchall: enable 
*Mar 27 13:31:31.443: %HA_EM-6-LOG: catchall: terminal length 0
*Mar 27 13:31:31.463: %HA_EM-6-LOG: catchall: terminal width 0
*Mar 27 13:31:31.482: %HA_EM-6-LOG: catchall: write memory 
*Mar 27 13:31:32.561: %HA_EM-6-LOG: catchall: show running-config 
*Mar 27 13:31:33.237: %HA_EM-6-LOG: catchall: show startup-config 
*Mar 27 13:31:34.226: %HA_EM-6-LOG: catchall: copy flash:vlan.dat  scp: 
*Mar 27 13:31:34.293: %HA_EM-6-LOG: catchall: disable 
*Mar 27 13:31:34.706: %SEC_LOGIN-5-LOGIN_SUCCESS: Login Success [user: dnac] [Source: 10.0.0.101] [localport: 22] at 13:31:34 UTC Fri Mar 27 2020
*Mar 27 13:31:34.726: %HA_EM-6-LOG: catchall: enable 
*Mar 27 13:31:34.736: %HA_EM-6-LOG: catchall: terminal length 0
*Mar 27 13:31:34.753: %HA_EM-6-LOG: catchall: terminal width 0
*Mar 27 13:31:34.774: %HA_EM-6-LOG: catchall: copy flash:vlan.dat  https: 
*Mar 27 13:31:34.852: %HA_EM-6-LOG: catchall: disable 
Cat9300#

A lot of stuff is happening here:
SNMP community is configured
Various show commands to collect specific information
The trustpoint DNAC-CA is deleted along with any RSA key pairs of the DNAC-CA label
HTTP and SSH source interface is configured
SSH version 2 is enabled
Domain lookup is enabled
DNAC certificate is installed using the DNAC-CA trustpoint
IPDT is enabled and configured for all interfaces